Phone (801) 220-0500
Building D, level 2, east court
Mon-Thur 11:00 am – 9:30 pm
Fri & Sat 10:00 am – 10:30 pm
Sun 11:30 am - 9:00 pm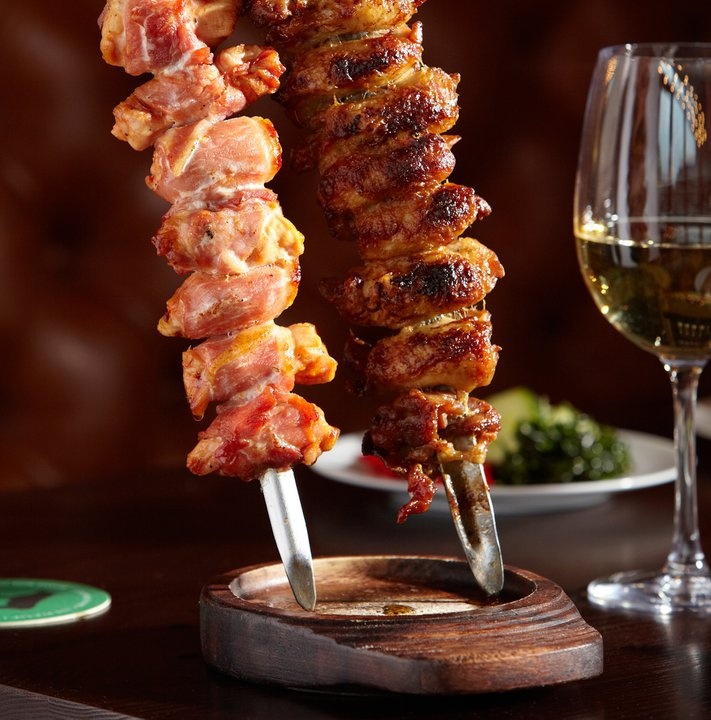 For over 20 years, Rodizio Grill has been known for its playful Brazilian spirit, authentic menu offerings and family-friendly atmosphere. The unique concept features rotisserie grilled meat, expertly seasoned and carved tableside by traditionally dressed Gauchos. While the meats are the main attraction, they are complemented with an award-winning gourmet salad bar, marked by original salads, fresh seasonal fruits and vegetables, and authentic hot side dishes. Rodizio Grill also boasts an unparalleled selection of real, fresh-pressed juices, homemade Brazilian Limeades, signature cocktails and an extensive wine list featuring a variety of Brazilian imported wines. At the end of the meal, guests can enjoy a selection of exclusive, homemade desserts authentic to the entire experience – a treat not found anywhere else.
Rodizio Grill's private event space, the Meeting & Celebration Center, offers an expanded, state-of-the-art space to host both personal and corporate events.
The facility accommodates up to 275 guests, with the option to be divided into three smaller private rooms named after famous beaches in Brazil: Copacabana, Ipanema and Leblon. The Center features a private gourmet salad bar, portable bar, and advanced audio-visual equipment, including several large screens. Brazilians know how to host an event! Guests who take advantage of the new Meeting and Celebration Center will enjoy a welcoming, authentic Brazilian experience in an atmosphere filled with warmth and alegria. Whether you're planning an office party, wedding reception, rehearsal dinner, corporate luncheon/dinner, seminar, sports team banquet or anything in between, Rodizio Grill's management team makes it easy to plan your next event, assisting you with the menu, room layouts, audio/visual needs, entertainment and any other special requests. Call today to learn more: 801-220-0500.